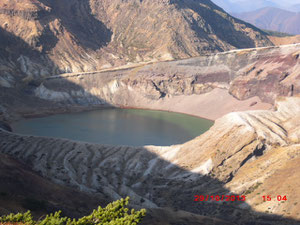 After hearing the doctor's comment on the blood test this morning, I finally decided to ride a motorcycle to Zao mountain peaks in a crap mood and aimed for corners of the winding road. I asked the doctor whether there is a way to lower the uric acid level without medicines. The heavy-handed doctor said 'Doctors are well educated and experienced. It is enough for patients to say just yes to the doctors' words since the doctors are busy. No common sense! Stupid!' and so on. Thank you, Doctor, for many words against a piece of mine.
Thanks to the doctor, there was found the nice Okama view, the crater lake. It was a 40-minute ride on a motorcycle from ALBERO to the top. 
Upper: Miyagi Pref. view from the Kattadake peak
Lower: Sankai Falls (Three-stage Fall) and Fudoh Falls
The access road to the Zao peaks is closing on 5/Nov. onward. It may have been the last chance to see the Okama this year. It was 7 degrees Celsius on the top. The plants are tilting toward the wind.
There are 2 water falls around the middle of the way to the peaks. Sankai Falls is the one of the 100 falls of Japan. The downthrow is 181 meters.