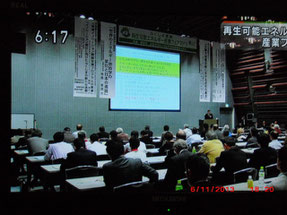 The 2nd Renewable Energy Industrial Fair (REIF) was held in Koriyama, Fukushima Pref. 6-7 November, 2013. Mr. Sato Yuhei, the prefectural governor of Fukushima Pref. delivered the speech about newly-emerged Fukushima plan.
1. Development of reconstruction plan and comprehensive plan which demand implementation of renewable energy
Creation of a society that is nuclear-independent, secure, safe and sustainedly viable as one of the 3 basic principles of Fukushima Prefecture's reconstruction vision
Project for implementation of renewable energy as one of the 13 prefectural priority projects
Ambitios target for significant implementation of renewable energy
Target proportion of renewable energy to the primary energy supply in Fukushima Pref.
2009FY:  20% approx., actual
2020FY:  40% approx.
2030FY:  60% approx.
2040FY:  over 100%