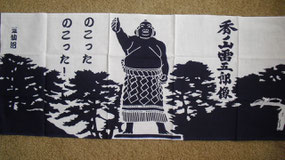 The statue of Hidenoyama Raigoro, Kesennuma-born, the 9th Yokozuna, Japanese sumo grand champion. The statue stayed at the tip of the cape called Iwaisaki, and survived on the same place even after the giant tsunami on 11th of March, 2011.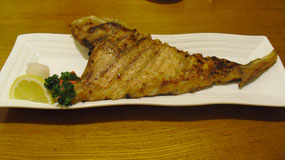 So-called "HARMONICA" - Roast swordfish back fin
It was named after that man eating it looks like playing harmonica. There is another version of cooking in soy sauce, which is also oishii.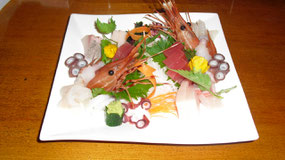 Kesennuma is one of the famous Japanese cities of fishing port. Sashimi plate is normally nice. My old friend lived in Kesennuma introduced me to this special restaurant, and all the seafood was extremely fresh and delicious.
Mottainai "AJIKURA" 「あじ蔵」
1-3-6, Tanakamae, Kesennuma, Miyagi
Phone: 0226 23 3996